Online Dating - The Business of Love Unveiled
When Facebook and Twitter have become more socially acceptable, dating on the Internet dating gets very obsessive addictive. 
The minute you start "talking" to somebody, you know, you're just like, bombarded with attention. Generally speaking, the rule on Internet dating is you have your cup of coffee, and you start dating. 
Does it feel like looking for a partner, or is it more like looking for a fantasy experience?

As people spend more and more time online looking for love, they also become more likely to experience depression and anxiety. For dating apps, in particular, the simple fact that you evaluate other people's profiles can impact your self-esteem and confidence and make users like you feel objectified.

The Global Online Dating Market Size is to grow from USD 2.230 billion in 2019 to USD 3.592 billion by the end of 2025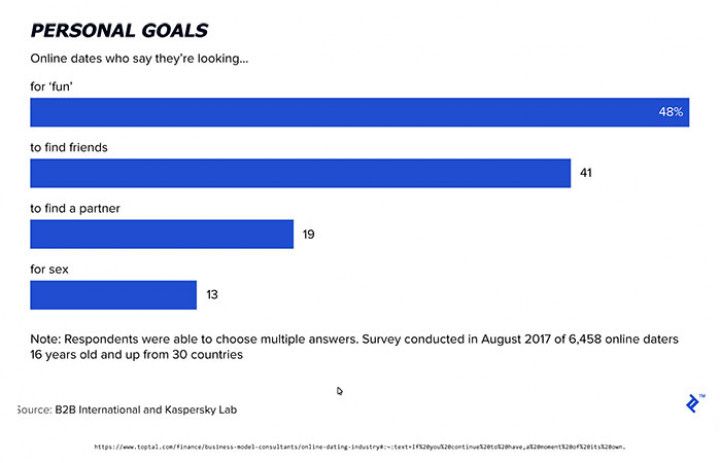 Are all online users looking for that special relationship with someone else?
Yes, I'm sure you are. You sit on a Sunday afternoon in the privacy of your own home, and you boost yourself and browse. You do a quick search of all the profiles and evaluate the possibilities. So how do we look?
"Oh, I like some of these." You have 50 pages of 10 people, so you're immediately confronted with 500 leads to choose from. It is exhilarating. It makes you feel great. Very compulsive! So you very quickly start going through people looking at the photos, and it becomes like being a kid in a candy shop or a new toy to play with. You're in a virtual warehouse where every girl in this world is on the shelf; you have so many to pick. Isn't that great? Let's choose them all!!!
The volume of people you are exposed to as a potential "match" via your app profile makes dating apps so different. The limitless choices that dating apps offer can be detrimental in some ways; rejections become easier as users search for a perfect match. More time you spend analyzing others than deepening a potential connection. And this happens all the time and proportionally to the number of people you keep in permanent contact with.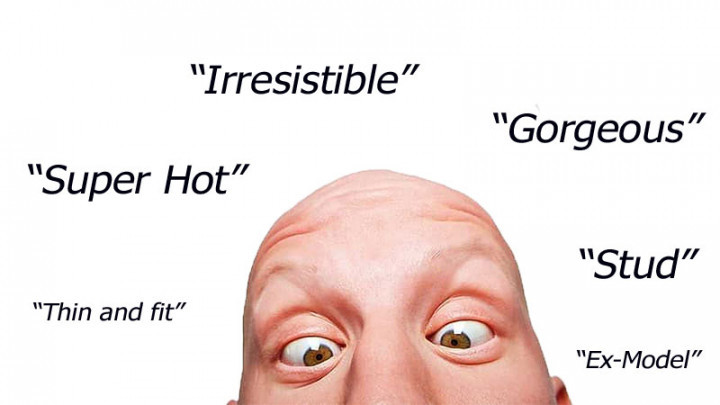 The profile photo: which shall I use?

The one with the glasses, without the glasses? The one with the long hair, or the one with the shorts? With the moustache and the smile? Or the one with the cap? 
Your women friends look in and say, oh, you're not smiling, so you smile. Then the male friend said, you look like a serial killer. So what can you do?

There's a limited palette of colour here that I can work with. Right. You know, I'm in my late 40s and a bit fat. That's what I am. I don't want to go out with somebody that looks like me!
But what you're actually doing is you're trying to mate based on a picture the size of a postage stamp. Internet dating is literally one pixel deep. It's so trivial, like a tiny telescope into a nothing world.



WHICH ARE THE MOST COMMON LIES WHEN DATING ONLINE?

1. AGE - Both men and women, lie on dating apps, but only men lie on international pay-per-letter websites about their age.
2 HEIGHT- 50% of men mention their height incorrectly, saying they are taller, hoping that women, when meeting them, will like them regardless.
3. WEIGHT - More women lie about weight than men. Women take off 3.8kgs whereas men 6kgs.
4. BODY TYPE - Men often describe themselves as athletic (when overweight) and women as curvy or average.
5. INCOME - People lie anywhere between 20 to 40% on their income bracket. In my opinion, income shouldn't make part of a profile.
6. JOB TYPE or TITLE - 42% of men lie in some aspect of their job, and women 32%. Some women fear men are not attracted to intelligent women, so they downplay their intelligence.
7. PHOTOS - Are the most deceptive element of an online profile. Both post not accurate photos showing their authentic look.
8. HOBBIES AND INTERESTS - A common area where both lie, showing themselves in the best possible condition. People may say they like a sport when only practising it once in a blue moon.
9. LOOKING FOR A RELATIONSHIP - Many users lie when declaring to search for a relationship. Men are more guilty as they have learned it gets them what they want.
10. RELATIONSHIP STATUS - According to research firm GlobalWebIndex (GWI), which released some figures on Tinder, 42% of users are married. Of course, this has to be the worst lie of all!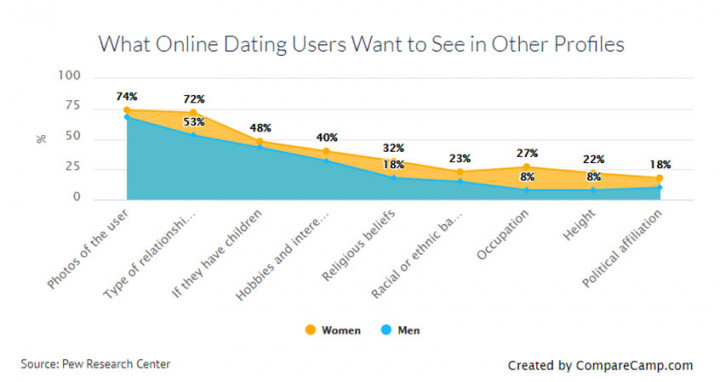 There seems to be a definite protocol. It all starts with a wink.

And basically, that's in property parlance terms. That's like a note of interest. People sent lots of "winks" because that's a clever way of saying, "hi there, are you interested?" 
So if you add someone has a favourite, and they do not favour you back that day, but you've seen they've been online all day because it tells you when they were last online. You can't hide when you go on internet dating sites; they show you who's looked to you. And of course, if the people you look at, especially those you find attractive, do not favour you. That must mean something to learn from.
Unless you are using a pay-per-letter website; where you'll be surprisingly overwhelmed with the number of winks and messages you receive from gorgeous women, most of them below your age range. It must be a rea$on there, don't you agree?
The problem is, in such sites, the translators behind the profiles, the "system" inform them of your activity online and if you're an active user. 
No matter if you have a blank profile, they will invite you to initiate conversation. At some cost, obviously. 
That is the foremost reason for their interest in you. It is a pay-per-letter website, remember?

AND HERE YOU CAN LEARN WHY YOU SHOULD NOT USE IT AT ALL
Do not have illusions that it is NOT about you - your most value lay on how many credits you've to spend.

Trying to find the perfect person, if you could have someone with her looks and God wishes "that" personality, would be great. And you sort of think about that, you think, and well: it must be someone like that for you out there. So, you go online to try and find "her" involved in all that dopamine the system inoculated in you. From that, the addiction grows as well. The drug hit over your first response. You sitting there, you put it up, click, click, click, something comes back. Somebody out there answers you. Oh, my God! How great is that? We men are pretty ancient. We mainly think of two things: one is food, and the other is sex appeal. ?
So, if addiction is a dopamine high, which it is. You got highs out of it. It made you feel fantastic! There is no more incredible feeling than somebody sending you an email saying you've got sexy looks. And I tell you that, for a man around his 50s, it can keep you going for a few weeks.
Your hands rush towards the mouse to click and open to see if they're sexy and exciting and fashionable and all rest of it. That is so great! That's so overwhelming! And it's something you are ready to do again, and again and again, like rats in a laboratory cage.
Many start by having first dates going to the cinema, so you have a drink before the film and then see the movie. And then if the date was going well, you go for a drink after. But at least if nothing came from the date, you saw a movie. Not much different than what happens when dating abroad. Your date aims to a nice meal at a fashionable restaurant, and God saves you; she doesn't bring her friend-translator with whom you'll mostly speak all night while your date gastronome herself ordering amounts of food she is not physically able to eat.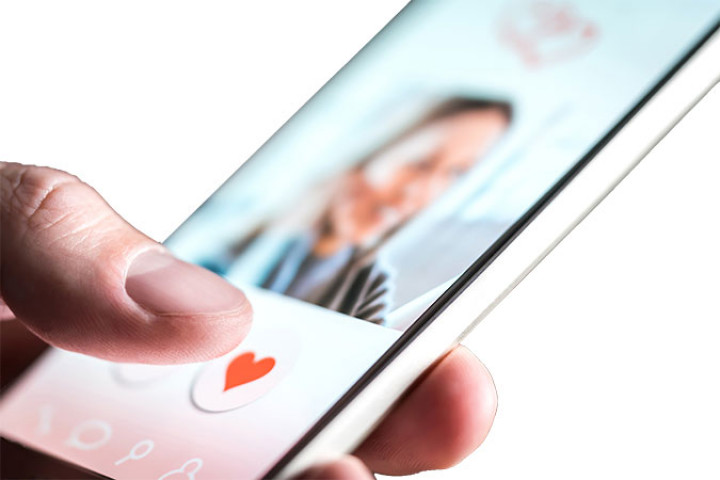 Internet dating is absolutely compulsive and addictive.

Once you've decided that you want to date, you're obsessed. Carry on. Give me more, give me more. Give me more addiction. Suddenly, you have lots and lots of women making you their favourite. And the numbers just go up and up and up, and you're having around 97, 98, 99 likes; you kind of get this thing that you've to get it to the 100 likes.
You can end up having multiple conversations throughout an evening with five, six, seven. You may reach out to contact or receive at least 25 letters from women in a week. And at one stage, you start getting slightly confused about who is who. You've got to really think about what you're doing? You stay dating online for hours every day. It entirely consumes your thoughts and, in many cases, the wallet as well.
Here's a "tip" to get out of your awful Internet dating; you know what you do? You spend the whole evening talking or writing about how horrible your divorce was, and your kids and your ex-wife, till their faces go fall and you'll never hear from them again, I guarantee you! 

It is not easy to go into Internet dating when you do not date a woman for years.

Profiles' photos are unconditionally essential. It is almost like selling houses. It's all about image and attractiveness. You certainly worry or should worry about whether people find you attractive. Depending on your life background and how you've grown up, there is always some vulnerability. So, when you are around your 50s and find out you're superfluous to your ex-wife's needs, then, yeah, there's a vulnerability there.

Do not interact on this premise; let's talk about something interesting. Let's talk about me. If it happens on a dating app, you may end as dull and get blocked. Usually, the person that speaks the most is the one who "loved the conversation" the most. (Though you most likely spent your time listening to her monologue. The critical thing is to shut up, listen, ask pertinent questions, and wait for replies.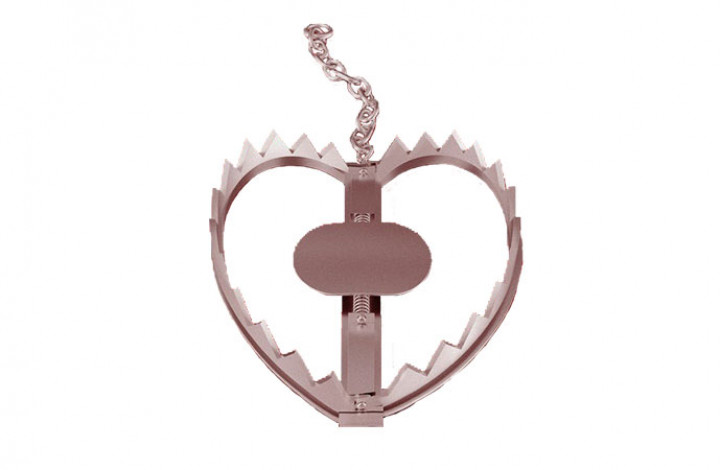 Online dating high-ranking propaganda claims:
"We've too many beautiful women, too many. Women overrate men and suffer alone to find someone like you. Sign up today."
So, of course, you joined. Expectations grow vastly, and you expect that when your profile goes online, there'll be lots of replies.
What happens, you'll largely bookmark favourite profiles and email furiously at many types of ladies, but no reply. It often occurs in dating apps. But when using pay-per-letter dating sites, you only need to be alive to be desired, i.e., have your profile online even if saying nothing or having no photo. If you recently signed up and have credits to spend, there will be love at first sight. ?
If you are in your 50s and target women at 25 to 30-year-old tall blondes with big knockers and long legs, it probably will be an error of judgment on your part. You'll soon suffer a considerable reality check with financial and emotional losses, to be honest.
The Internet allows you to be rude and judgmental.
Very dismissive in a way that the reality you know, thankfully, doesn't accept. People know that they can get away with being discourteous because there's no sanction. Online dating can become quite brutal. Dating apps teach you quite quickly to be selective and to acclaim that you're not interested. To some extent, they are preferable to international dating sites where you pay to communicate with gorgeous foreign women out of your league. You can do it. But be aware that you're most likely just purchasing a temporary dream.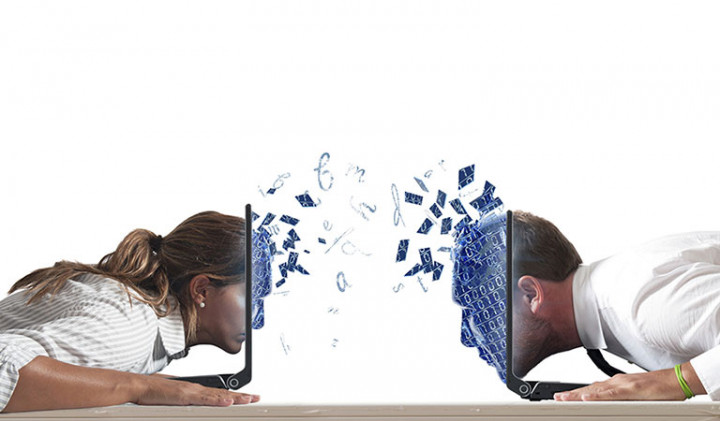 You become ruthless with your decision-making. 
I mean, you get messages, and you even do not bother to open or delete them if the photo is not appealing. It will be best if you are obscure. Yeah, there's this kind of compulsive, obsessive thing of being online, looking at profiles' photos, bookmarking, and writing to pictures. Paradoxically, the more time you spend on Internet dating, the more your actual life feels empty and lonely.


Were you ever dishonest dating online? 
Yes, of course! You've to be obscure and protect your ego. You don't want to let on the downside. It is the honesty issue that gets you. Due to its nature, Internet dating doesn't allow you to be yourself.

"I met some attractive, sparkly, exciting girl online.
"There were three pictures; there's this part of her face. This part of her cleavage is nothing rude, just a tiny bit of décolletage. And there's a little bit of a shapely ankle. - She said: well, do you fancy going out for a drink?- And I said: yes, I'm going to go out for a drink with your love. 
A red sports car drives up with the roar of tires, and the door swings open. She was a rhino!!!
Is it her fault that she's fat? No, I'm a bit fat.
Is it her fault that I don't fancy her? No, I did choose the online version, didn't I?
Right. But she wasn't honest with me.
I'm angry that I'm having to do this stupid shit this time in my life when I thought I was in the place I was going to be with the person I wanted to be with forever. I believed all the love songs I listened to when I was 17. You know, I thought that's the way life was. And it just isn't!

I didn't do so badly when I was younger. When I was on a real-world date, I did OK. I had girlfriends, and I had relationships, I met people, I had flings, I had whatever. I was a player. The end of my marriage was very unexpected, very traumatic, and I was in a very kind of chaotic state. So, there's a little bit of a sort of decent interval. Then I started thinking: well, kind of what next? I became, I guess, online dating addicted for the best part of two years, probably.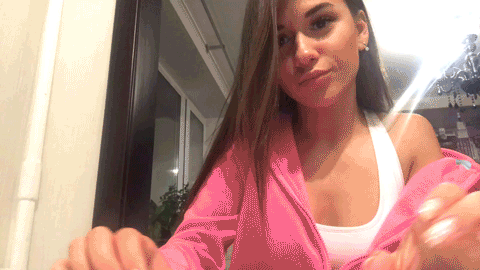 Example of a pre-recorded chat to stream at your best convenience and expenses


It's a numbers game like a dating roulette.
You know, people end up banging through numbers because it's like direct marketing. Only a tiny percentage of people will ever get back to you with anything exciting and meaningful. But you just got to keep going and going and going. Endless hours at a time, 500 search results, and you go through and most likely look at all those 500 profiles - overwhelming and confusing, I must agree. There's so much to choose that hardly we make the right choice.
Why did you persist with online dating for years?
Loneliness is the online daters' major enemy. It's a way of convincing yourself that you're moving forward when you actually are not. One thing that happens to you when you come back to the dating scene when you're in your 50s is that your dating head is still back in your 20s. You still think you're 20. You don't quite well realize your actual dating value compared to an early age.
Svetlana "contacted" me on one of these dating chats sites.

She was a real woman. She was really interested in me! And then I said, well, OK, I'll sort of pop over for a weekend to go and stay in an Eastern European city for a few days, expecting her to show up at any moment. And long and short, it was that I flew to her town and right last minute she said:
It will be much cheaper and better for you if you rent an apartment.
So, I rented this apartment, and I showed up. And a very tall Ivan-type character said:
I'm the agent for the apartment. You give me money now.
And I sort of said, Huh?... OK!. She stopped answering her mobile the second I landed and left me feeling like a jerk. It was a comedy of errors and the most profoundly depressing episode in my career. 
Good lesson; I learned it early on, right. Even if you speak to them, even if you got an email, the chances are Svetlana, 22, from Ulyanovsk, right? Who is a babe! She doesn't really exist, or she's not really interested in a slightly fat, broken-down you, right? 
But, you know, she's got a beautiful picture, and she seemed very interested in me. When that happens, you're going to have to go. No one's going to say no to that!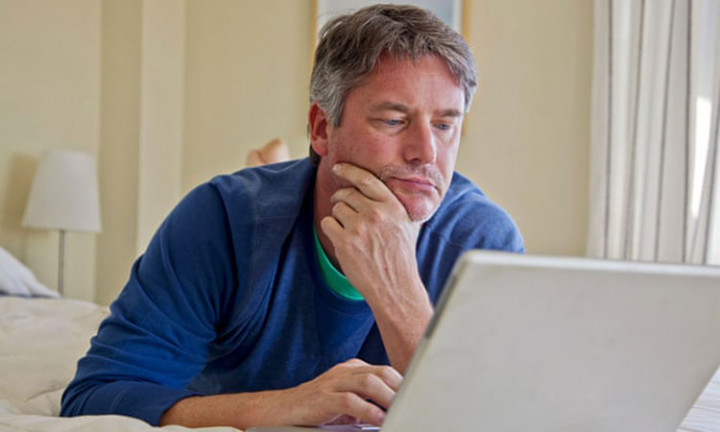 By the very nature of the beast, online dating is full of people who have been damaged or carry various degrees of baggage, anxiety, and unreasonable expectations with prominent wrong dating heads.

In terms of the ratio of return on time, energy, and money investment, online dating is not favourable as all resumes to a wicked numbers game. We are talking about the possibility of communicating and meeting real people primarily within our country, culture, and language.
Suppose you opt for international dating sites where you spend credits to "talk" with gorgeous "poor" women from Russia, Ukraine, Latin America, or Asia. Then you indeed are walking through a minefield of deception and fraud.
Did you ever question yourself about the parallelism between those countries' female beauty and their economic circumstances? Are they, in reality, looking to relocate and leave behind all their lives, legacy, and family for a better life abroad? Are they conscient of what such life-changing represents? Will they accept marrying any man regardless of nationality, colour, or religion?



Online dating propaganda will undoubtedly lead you to believe you'll find your dream woman online.

Moreover, regardless of who you are, your culture, religion, ethnicity, or age. But once again, that is not what the numbers say or happen in real life. Some have luck, which is true. But in this numbers game, they become an exception, not a rule.
The chances you are corresponding with the woman on the photo are below 10% if using a pay-per-letter website to date foreign women. You definitely expose yourself to a ruthless industry whose primary goal is to lead you to believe that your most hidden dreams are at the range of a click —dopamine shots of beautiful women who keep you attracted to the site like fish to the bait.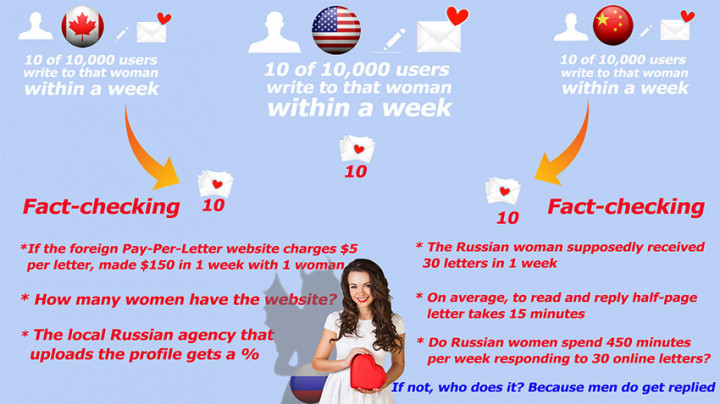 Do you have the slightest idea who is behind those photoshopped images?
""юбой каприз за ваши деньги""- Lyuboy kapriz za vashi dden'giwhich means in Russian: ""ny wish for your money""Pay-per-letter online explained

Unfortunately, many online daters hang up their Internet dating guns after a heavy emotional hangover, and they try to reboot their lives back to reality. The dating matrix led them to believe that Internet dating was the solution. But it is not! Well, for a minuscule majority, it was so. If you feel an exception to the rule and bad things only happen to others, please try; spin the barrel and good luck.
Unfortunately, some have got more baggage than Terminal five on launch day. Everyone gets stuff and feels that it's OK to be on their own. TThat'snot an admission of defeat. IIt'sjust an OK place to be after failing. Do they miss the sex? Of course, they do, and they miss someone to watch a movie within the cosiness of their houses but, you know, it's OK as long as they don't end up drinking two bottles of red wine, they'll be all right.
Many users are unrealistic. They expect way more from online dating than it can generally give. There are no miracles in online dating, and it is not always someone else's fault other than yours. If you are not prepared to navigate such turbulent waters, you should not go onboard before doing your homework and learning. 
Though some relationships didn't work out, people certainly do not regret it, keep trying to find love, and face it as a learning process for the future.
Internet dating is a convenient shortcut and exciting way of not having a relationship.
Many men don't know what to do, but many women also don't know what to do. It would be best to find more suitable mechanisms than dating pictures online. In such a virtual world, you can be James Bond. You can be anyone, anyone you want to be. But you always have to remember that someone may wish to make out with you, so you better use honesty since day one. You have to be honest with yourself and others on the way you represent yourself online and be able and willing to evaluate your expectations regarding your goals versus your reality.

What you want is a lovely lady who loves you. You love her. Maybe she has got kids. You've got kids. Perhaps you never married. But you want and have the right to build and live in a happy family. Do you believe there's somewhere somehow someone that will match you? I hope you do. You should never give up trying. Because I genuinely think out there is somebody you can connect with and love and adore, and she will do the same to you and cherish each other. But all starts from how faithful you are to your goals and how fully aware you're of your potential to succeed on your dating quest because what starts wrong ends badly. Do not risk a bad start.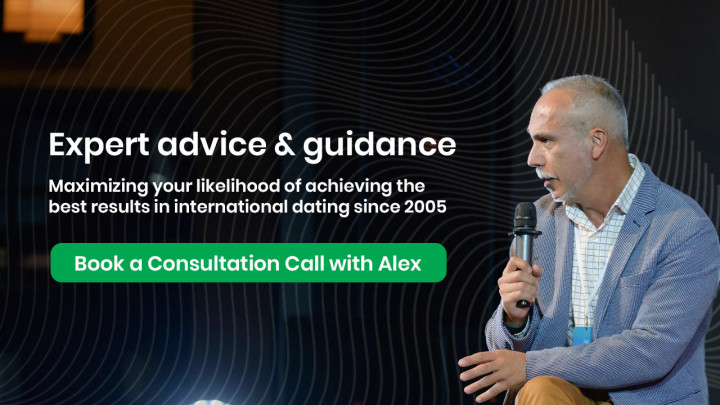 Give yourself a chance and let me promptly and honestly reply to all your nagging questions on international dating. As an international Matchmaker in Ukraine since 2005, I know all the obstacles and misleading practices you face or will have to face if not prepared. I will help you evaluate your true success and avoid financial and emotional losses.

Let me help you explore what may hold you from meeting the right person. Preparing for international dating and acquiring awareness is essential to succeed abroad. Book a Skype Consultation-Call with me, and I will share my knowledge to help you safely navigate the dating scene, best promote yourself and evaluate your true success.