Why a Matchmaker to safely marry abroad - the truth in numbers
Often I am asked:
"You could guarantee me my matches speak enough English that one doesn't necessarily need a translator?"
- This one is easy! When men put me such determinative requirement to meet a Ukrainian woman, regardless of any other characteristics the women have, I do say "Yes" but, immediately after, I need to let them know how drastically their options narrow.
"Of all databases, what percentage of women can speak without a translator?" Yeah, that's a turn-off right there.
IMAGES INFLUENCE... BUT NUMBERS TALK!
Not long ago, and without sugarcoating, I make a statistic study exactly to sustain reality by numbers.
Within approximately 2,500 women profiles in 10 dating sites, this is what numbers undoubtedly say:
- Women between 20 to 30 y.o.
- When dating Apps reaches the sky with guys swiping, right?!
27% never married
25% has no children
6% are already divorced (54,2% is the Ukrainian rate, and 10% of couples split in the first year of marriage)
7,8% have children (every fifth child is born out of wedlock)
Often partners do not officially register the marriage, and mothers do not write the father's name on the child's birth certificate, so as being "single," they receive higher social benefits. According to statistics, more than 40% of Ukrainian children are brought up by mothers
Now the major "dating-online-problem" for all the dating sites users:
- Women speaking "sufficient" English within this age group are 6,3%, and only 2,5% are fluent in English. I hope this rings you some bell.
And about the "insufficient" English level?
That's the "pleasant" surprise; there are out there 25% of women between 20 to 30 years old classified as "insufficient English level." But you know what that means...
With my 12 experienced years matching people I guarantee you that, from those 25% 90% can't speak English at all. So makeSo make your maths; a mere fish decoy for the less cautious men...
- Women between 30 to 40 y.o.
- The inevitable reasonable option for the 40s to 50s men looking for a wife abroad
17% never married
15% has no children
15% are divorced
18% have children
Women speaking "sufficient" English are 7,6%, and 2% are fluent in English.
The "insufficient English level" of course is much higher, 24% as usual...
- Women between 40 to 50 y.o.
- When, unfortunately, men's fingers swipe mostly left-side.
7% never married
5% has no children
25% are divorced
28% have children
Women speaking sufficient and fluent English are 4,8%, and there's not even the reason to mention the "insufficient English level" because we all know how ridiculous that number when referring to women born between the late 60s and early 70s.
Shall I mention women between 50 and 65 years old?
Yeah! I guessed so. You may consult the table just by curiosity.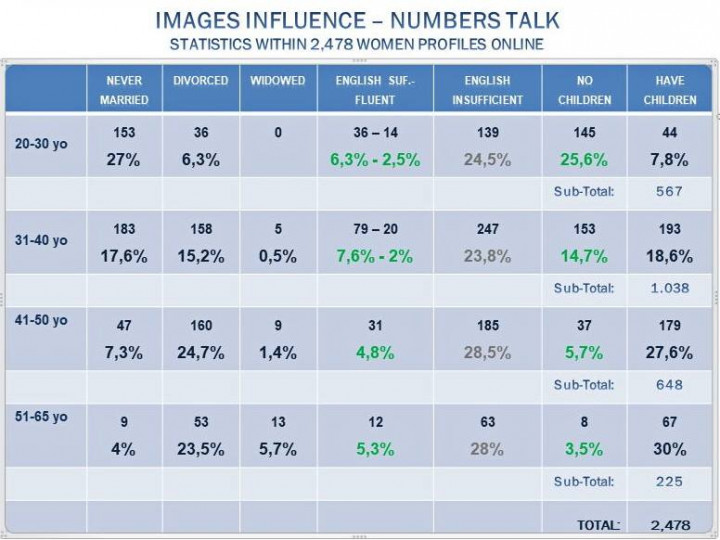 The options to find a Slavic woman are substantially amazing at the range of a click or a swipe on the many female photos on the dating website.
What. What about legitimacy and the best options to succeed without emotional and financial losses?
So when asking: "Are my options significantly reduced by having this important requirement?"
When only the eyes screen those online photos leading us to that tempting beauty declaring to speak "sufficient" English, having no kids and willing to have a relationship with men till 55 when she is 25:
- YES! OF COURSE! JUMP OUT FROM THE PLANE WITHOUT THE PARACHUTE! YOUR OPTIONS TO SURVIVE ARE NONE SO, JUST AN EXPENSIVE LESSON MANY REFUSE TO LEARN AND KEEP PAYING!
If you are attached to several online dating sites writing and building (paid or not) cyber-relationships, sometimes even reaching to have a "girlfriend" before landing here, yeah...
I really need to talk to you and tell you a couple of online dating secrets!
There is reasonability, opportunities, exceptions to the rule, and more marrying Ukrainian women than decent, honest marrying men.
But who do you know that can be exempt, can testify to you the legitimacy or not of the women before you jump on that plane? Or who can locally defend your best interests and screen your best matches, helping you to understand cultural differences, language barriers, interpretation, and habits, so you can safely optimize your self-representation and succeed in your quest?
CLEARLY, THIS IS WHY YOU NEED A MATCHMAKER!
Alex Pinto